Lately, we've been able to feel how ready Corpus Christi is for spring! The wind is warmer, the sea looks inviting, and the bikini-clad Spring-Breakers are out in full force. The arrival of spring brings another season, however- wedding season!
It goes without saying- every bride is beautiful! That being said, she and her boo have probably put quite a bit of work into their picture-perfect wedding day looks. Months of working out and dieting, and hundreds of dollars on hair and makeup, are considered normal wedding prep. But what about those smiles? At CC Braces, we believe that a stunning smile can make a good picture a great one!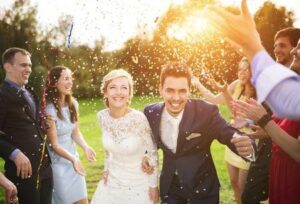 With the wedding right around the corner, however, it's scary to consider visiting the orthodontist to finally get that perfect smile. What if the treatment won't be done in time? Or, worse, what if the doctor thinks it'll be done in time, but there's unforseen complications? Of course, we think ALL of our #bracefaces are adorable, but we understand how a lot of couples are hesitant to risk having braces for their wedding photos. Fortunately, there's an easy solution!
CC Braces is proud to be a provider of Invisalign- the invisible alternative to braces! For the same price as traditional metal braces, Dr. Mihalik can easily provide happy couples with a system of clear retainers that slowly move and straighten your teeth! That means you can walk down the aisle WHILE actively working on your smile- and no one ever has to know! And at the reception, you can eat whatever hard, sticky food you want; Invisalign clear aligners can be removed as easily as any other retainer (just be sure to keep an eye on it while it's out). Invisalign won't show up in your pictures, but your beautiful straight smile will!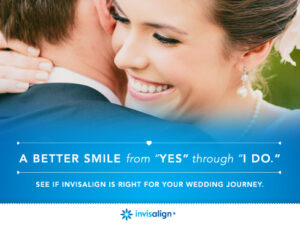 There's more to a wedding-perfect smile than just straight teeth though; when you flash those pearly-whites, you want them to be, well, pearly white. Coffee, tea, and life in general can dull your teeth and reduce their natural shine. Fear not, though! CC Braces can also provide you with Opalescence Go teeth whitening trays. These trays are a professional version of the over-the-counter whitening strips we all know. They come in Mint and Melon flavor (instead of Bleach flavor…), are one-size-fits-all, and their discreet, clear tray can be worn out anywhere. Best of all? Your whitest smile is only about a week away!