We know it's hard to find time to visit the orthodontist. We have options for you!
We get it: Everyone's lives are busy, and it's harder than ever to carve out time to make an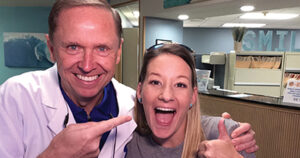 initial appointment to come see an orthodontist, much less fully research all of your options. For potential patients who are just now imagining what braces can do for them, fast answers can be even closer than one of our free consultations away. At CC Braces, we're excited to introduce two new ways new patients can start to see if braces are the right choice for them – all without ever leaving their own couch!
It can be hard to imagine what your smile could look like after months of orthodontic treatment, but fortunately, you don't have to anymore. With the help of the SmileView practice assessment, seeing what your finished result could be at the end of Invisalign (or even traditional braces) is as fast and easy as snapping a selfie. Simply scan the QR code and smile, and let SmileView do the rest. The software generates an augmented-reality version of what your smile could be, after a little help from Dr. Mihalik and his team.
While it's impossible to determine exact details of treatment and cost without physically seeing you for a free consultation, we understand that our patients want as much information as they can get before they walk in our doors. For that reason, we offer a free online assessment tool under the "New Patients" tab on our website. Simply follow the instructions to take five pictures of your bite, then text them to Dr. Mihalik directly (along with any other information you think we should know).
He will examine the photos, determine a rough estimate for your specific treatment plan and respond to you via text. He'll provide a rough estimate for how long you'd spend in treatment and how much it may cost – information we know you need before you commit to an in-person consultation.
CC Braces understands how hectic life (and how hard leaving the couch!) can be. With these two unique online options, we hope to make the decision to start braces – and the excitement for the end result – a little more attainable for everyone.